Admin Fanatic provides professional virtual administrative services tailored to meet your specific requirements.
We can improve the success of your business by assisting you with your routine administrative tasks, virtually, allowing you to devote valuable time to the more innovative and productive aspects of your business.
We hold high standards, knowledge & sound professional advice. We are business owners ourselves and treat your business like our own.
Virtual Assistance Defined?

A Virtual Assistant (VA) is an independent entrepreneur and skilled in a diversity of fields.
Utilising advanced modes of communication, a VA provides professional assistance to clients from a virtual office. VA's are beneficial to any business and individual.

Virtual Assistants are there to assist in the administrative role while you focus on the business at hand. Where ever you may be in the world, your VA can support you.
Partnering with a VA is rapidly becoming the way of the future for savvy business owners, and those who do will never look back.

Who uses Virtual Assistants
• Businesses small to large
• Individuals
• Students
• Travelling Business Professionals
• Anyone with the need for admin support

One thing a Virtual Assistant cannot do; is bring you a cup of coffee ~ but we can organise for it to be delivered to you...

Contact us to find out how we can help you in your business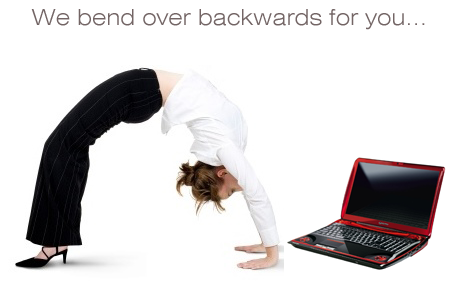 Employing the services of a qualified Virtual Assistant is a wise business practice, one that is based on very sound economic principles.
The Wall Street Journal ~ May 2001